Getting the Love You Want
The Couples Weekend Workshop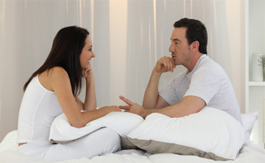 This is a two day intensive workshop for married and unmarried couples. You'll discover how you attracted your partner into your life for the purpose of growth and healing. Through this workshop you will learn how to co-create change. You'll also learn how to move from conflict to connection.
Move from conflict to connection. Enrich and enhance your connection. Restore and repair your connection. Deepen your connection. Words attempt to describe the power of this workshop experience, but it is beyond words. Imagine 20+ sessions of therapy in one weekend. Expedite your process of healing and connection. You will work with your partner privately. Call for more information: 864-706-HELP.
* Please note the video below references the date and location of a previous workshop.
You do NOT share your private stories with the group (sigh of relief). That's what most people are concerned about so let's get that out of the way.

Imago principles are ideal for helping a couple whose relationship is in trouble to heal and for helping a couple who simply wants to deepen the connection they already have. In this weekend workshop, you and your partner will learn new ideas about how you were initially drown to each other, the stages of a love relationship, and communication techniques for more effective bonding.
Research reports that one intensive weekend workshop is as impactful as 20 or more couples counseling sessions. Because of this, workshops prove to be cost effective and expedite the change that couples want to see. Time spent at a workshop can both enhance and jumpstart work done in or outside therapy sessions. It is highly likely that even if you arrive at the workshop disconnected, you will leave feeling connected again. This workshop provides both the space and information to help you reach breakthroughs that are difficult to achieve in the short time span of a typical therapy session.
This workshop is for couples who:
are beginning a relationship they'd like to explore.
are in a healthy relationship and want to deepen intimacy.
are in a difficult relationship and want to restore connection.
are near divorce and want to find an alternative.
want to learn relationship skills that will make their relationship successful.
Comments from participants:
"Cindy is relational, disarming, funny, "REAL" and relatable."
"You have an incredibly peaceful way about you and are very easy to listen to and learn from"
"The information has radically changed the course of our marriage"
"Feel like I want to go golfing with her. Organized, smart, witty, funny, safe, a great teacher, didn't blink cause I didn't want to miss something".
"I have been aware of the issues in my marriage, but at a loss as to how to deal with them. Imago gave me the solutions to dealing with the issues."
"Cindy is present, available and real. Her skill set has a depth that even many skilled therapists do not possess."
"We could have avoided a lot of pain if we had found the Imago method sooner."
"Very insightful and informative. All couples should experience this".
"Cindy is warm and made me feel so safe and comfortable. I will leave here with confidence that I can improve my relationship with my partner."
"Cindy is a Gifted presenter. She made the workshop interesting and fun."
"Even if you think you have a good idea of what Imago is and how it works in your life being immersed in this workshop has shown me how much more there is to uncover and work through but in a safe and encouraging way. Real love is there if you do the work."
"Helped me to understand the depth of reasons why relationships can be so difficult and how to bridge that gap."
Additional Workshop Information
Schedule:
Saturday 8:30 – 6:30 PM
Sunday 8-30 – 5:00
Fees and Registration:
The fees for the workshops are $800 per couple. This includes your tuition, manuals, surprises, refreshments and Sunday lunch. A $200 deposit is required to reserve your space. Space is limited.
Cancellation Policy:
If you cancel 8 days or more prior to the workshop, you will receive a refund minus $200 administrative fee. In the case of illness or an emergency you can apply your fees toward the next workshop offered. Your registration is nonrefundable if you do not attend or do not complete the workshop. The presenter is not responsible for prepaid, nonrefundable travel arrangements. If the presenter cancels the workshop, a full refund will be made.